Cleaning Ceramic Glazed Clay Brick and Glazed Thin Tile
One of the great advantages to using glazed clay and glazed brick is the non-porous surface, making it easy to remove graffiti such a spray paint, markers, chalk, shoe polish, and even lipstick. The graffiti 'sits' on the surface of glazed brick and glazed tile because of the fire-baked hardened surface, the density of the material, and the smooth finish. This manufacturing method prevents graffiti from being absorbed into the material or affect the surface finish.
Easy graffiti removal is one key reason you see Ceramic Glazed Brick and Ceramic Glazed Tile used in schools, restaurants, government buildings, museums, subways, institutions, and public places.
There are a variety of masonry cleaners available so it is important to talk with an experienced mason or professional cleaning product representative to choose the right product for your situation. Do not use unbuffered acid and metal as these can damage the surface finish, stain the tile, or alter the color of the tile.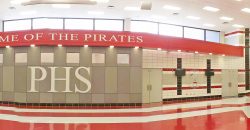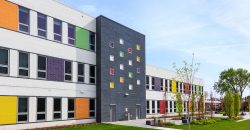 See How Easy It Is To Clean!